I have exciting news..... I have a book review request from a major publisher. Yes I was telling everyone at school and random strangers on the street if they would listen. ;) Yes, I was in rapture when I read the email from the amazing Anne Walls, from G. P. Putnam Son's aka Putnam which is a division of Penguin, asking me to review a copy of Freshman Year and Other Unnatural Disasters by Meridith Zeitlin. This really has made my year. Yes a major publishing company became aware of me. ( I still love my indie authors though... :) ) Also, to let you know I did say yes to reviewing this galley.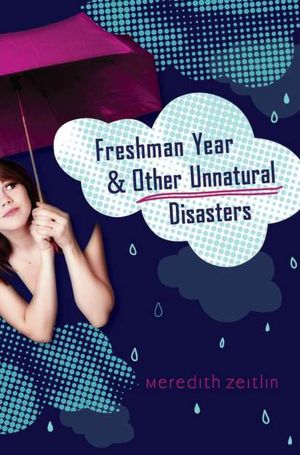 Kelsey Finkelstein is fourteen and FRUSTRATED. Every time she tries to live up to her awesome potential, her plans are foiled – by her impossible parents, her annoying little sister, and life in general. But with her first day of high school coming up, Kelsey is positive that things are going to change. Enlisting the help of her three best friends — sweet and quiet Em, theatrical Cass, and wild JoJo — Kelsey gets ready to rebrand herself and make the kind of mark she knows is her destiny.
Things start out great - her arch-nemesis has moved across the country, giving Kelsey the perfect opportunity to stand out on the soccer team and finally catch the eye of her long-time crush. But soon enough, an evil junior's thirst for revenge, a mysterious photographer, and a series of other catastrophes make it clear that just because KELSEY has a plan for greatness… it doesn't mean the rest of the world is in on it.
Kelsey's hilarious commentary throughout her disastrous freshman year will have you laughing out loud—while being thankful that you're not in her shoes, of course…